Your First Choice for Pressure Washing in North Alabama
When you think of service and what you want out of it, words like quality, convenience, affordability, and results come to mind. At Mountain Top Property Maintenance, we are proud to offer our Scottsboro-area customers pressure washing services that meet these needs - and then some.
Service not only refers to what we offer but also how we go about offering it. Owner Brett Dobbins brings nine-plus years of experience to the pressure washing industry, and Scottsboro homeowners and commercial property owners can rest assured he will address all your pressure washing needs.
Communities We Proudly Wash
Mountain Top Property Maintenance proudly serves several communities in Northern Alabama, and we are happy to come to you to provide the absolute best pressure washing in the region. No home is too large or small, nor is any business, because our business - is you.
Our pressure washers bring with them the most up-to-date equipment and knowledge. But most importantly, we bring a positive approach to pressure washing and always have the end goal in mind -- we make sure you get exactly what you want out of our services.
Our Core Services
Click on a Box to Learn More
How Soft Washing Benefits Your Home
Not every exterior surface requires an aggressive power wash, so Mountain Top Property Maintenance offers soft washing to its Scottsboro-area customers. This method involves lower PSI, combined with eco-friendly algaecides that will leave your property looking as good as new.
Some components of your home feature more delicate materials, so soft washing is an excellent option. Whether you need dirt and grime removed from your vinyl siding or mold spots and contaminants eliminated from your roof, soft washing is an effective option.
Regular soft washing not only is good for your roof, but it's also a good idea for any exterior surface that is subject to the heat of the sun and the impact of the elements.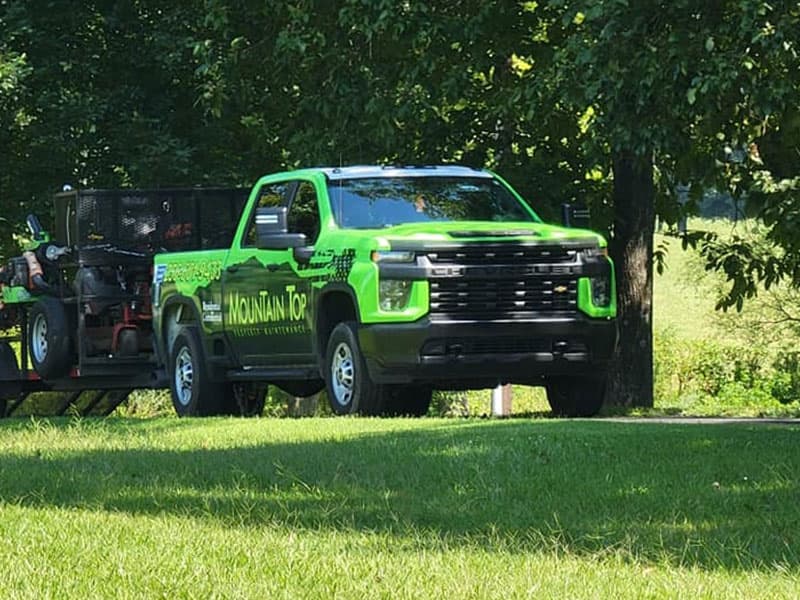 Frequently Asked Questions
Yes. Our services extend beyond residential clients to commercial property owners. We offer top-to-bottom pressure washing services that cover everything from the structure to the sidewalk to the parking lot.
Commercial pressure washing involves many of the same considerations as residential pressure washing. The only difference is that this is your place of business, or perhaps you own an apartment complex or lease office space.
Regardless, these structures and their surrounding grounds should receive the same care and attention as your home. The curb appeal of a business sets the tone when clients first arrive. This could mean window washing or driveway washing as well.
This depends on several factors, including the materials used to build the fence and the current condition of the fence. A soft washing option might be more effective and will prevent potential damage to the fence or deck.
Wood and vinyl fence care is an essential aspect of home maintenance. Because vinyl fences are typically white, dirt, mold, and moss are easily visible and sometimes not easy to remove. So we suggest a soft washing approach to remove existing stains. Wood fences can pose challenges, especially if they are older and frailer.
Deck washing depends on several factors, including whether they are made of wood or some other composite materials. So soft washing followed by traditional pressure washing might be the best option.
Some jobs are best left to the professionals, who have the experience and training to operate the equipment safely and effectively. Instead of renting and trying it yourself, why not let the trained experts handle it?
While it might seem more convenient to spend the money to rent a pressure washer, you also are investing in time - you're own time - when you could be doing something else.
If you haven't taken into account such factors as the correct water temperature and pressure and the condition of, for example, vinyl fencing or plastic patio furniture, you could be doing more damage than good.
Mountain Top Property Maintenance uses only environmentally-friendly anti-contaminants for all our projects. This applies not only to what we're applying but where and how dirt, mold, grime, and the like drain off your property.
So when we engage in a driveway washing project, we take into account where the wastewater will go as we're cleaning. Too many times, pressure washers simply point and blast with no concern for the impact of the dirt and mold go. Chances are, pressure washers who don't take this into account are simply moving contaminants from one place to another.
The primary additive when pressure washing a stained surface is bleach, which, when properly diluted, poses no threat to the environment. Since we specialize in this type of service, we are careful to take an ecological approach to pressure washing when additives are involved.
Results That Speak for Themselves


Our Gallery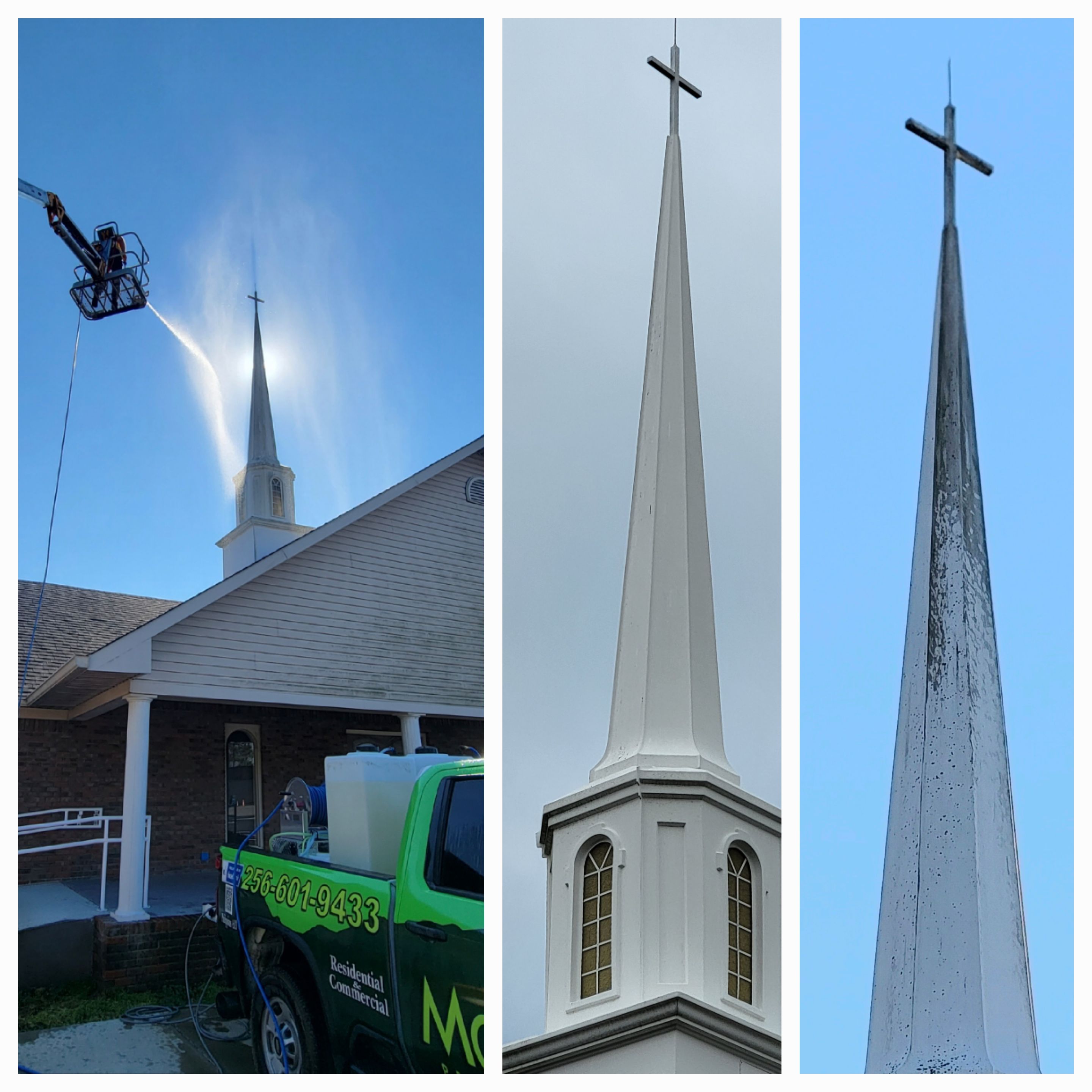 Big Steeple Cleaning in Rainsville, Alabama
We were contacted by a church in Rainsville to clean their steeple. The cross on the steeple was completely covered in organic materia (an algae called Gloeocapsa magma) making the white cross appear black. We used a rented lift to get close enough to use our […]
Blog Articles from The Experts
Removing, Mold, Mildew And The 'Silent Killer' | Scottsboro Pressure Washing

Mold is a pain. It's unsightly. It stains so many household items. And if you're allergic to it, that's a whole other story. Pressure washing a moldy fence, roof, or driveway is just half the battle. A good blast a couple of times a year will remove […]

Get Between The Cracks In The Pavement

New pavement is attractive and creates a sense of peace and pride. The surface looks perfect, and you know the footing is safe and secure. And it's up to you, the homeowner or business owner, to ensure that surface you paid for last a good long time […]

After The Storm, Assess The Damage & Pressure Wash To Restore Your Property

Southeastern storms certainly pack a powerful punch, especially when the wind and debris pelt the outside of the house, and driving rain and even hail do their number. Still worse are thunderstorms, windstorms, or any major weather events that leave their mark by causing actual damage to […]